The key to affordable comfort is a heating system that's operating in peak condition. If maintenance needs are ignored, some of the consequences are wasted energy, higher running costs, degraded air quality, and safety risks. To enjoy consistent warmth year after year, enroll in a convenient and customized maintenance plan from Richard's Heating & Air Conditioning Co., Inc.. We work within your schedule, service all makes and models, and provide prompt and conscientious service in Falls Church and throughout Falls Church, VA; Ashburn, VA; Arlington, VA; Rockville, MD; Potomac, MD; Bethesda, MD; West Falls Church, VA; North Bethesda, MD; Dulles, VA; Reston, VA, and Herndon, VA.
Regular heating service and maintenance will ensure your comfort!
HVAC manufacturers require seasonal inspection for continued warranty coverage. Through scheduled troubleshooting, Richard's Heating & Air Conditioning Co., Inc. helps you avoid unexpected and expensive repairs. We extend system life, protect the efficiency and air quality, and ensure safe operation. As a Carrier Factory Authorized Dealer, our team of NATE-certified specialists is specifically trained to optimize your comfort system, ensuring the greatest rewards from your investment. Contact us to learn more about the options and benefits of a service plan.
Consider some of the many good reasons to schedule annual maintenance from Richard's Heating & Air Conditioning Co., Inc.:
The majority of no-heat calls Richard's Heating & Air Conditioning Co., Inc. answers over the winter could have been prevented by professional maintenance.
A well-tuned heat pump uses 10% to 25% less energy than a neglected one.
Heat pump issues, such as insufficient airflow, grinding noises, and inaccurate refrigerant charge, are identified during regular service and prevented from further damaging the system.
Air and gas tight seals are essential to separate the gasses in the flue products inside the heat exchanger from the breathing air passing over the outside surfaces.  Annual inspection of the heat exchanger is an important safety measure.
Clean, properly-adjusted equipment utilizes less fuel to generate more heat, conserving energy, and decreasing operating costs.
Conscientious troubleshooting prevents problems.  With annual inspection, the licensed specialists from Richard's Heating & Air Conditioning Co., Inc. will make necessary adjustments, replace any faulty parts, and promote consistent performance.
Proper tuning extends service life.  A system that is operating at peak capacity resists wear and failure.
By checking functionality of the thermostat, we prevent energy waste and unnecessarily high running costs.
Cleaning blowers, to eliminate dust buildup, prevents overheating, possible cracks in the heat exchanger, and exposure to carbon monoxide.
Faulty electrical connections are a simple fix, but if neglected, may present a fire hazard.
Indoor Air Quality is better protected by clean, properly running HVAC systems.
A Maintenance Agreement from Richard's Heating & Air Conditioning Co., Inc. ensures priority customer service, inflation protection, and discounts/no charge for repair parts, depending on the plan.
---
Regular heating system service from Richard's Heating & Air Conditioning Co., Inc. has many benefits!
---
At Richard's Heating & Air Conditioning Co., Inc. We Offer a Variety of HVAC Services:
Heating Installation
Heating Repair
Air Conditioning Service
Air Conditioning Repair
Air Conditioning Installation
Wifi Thermostats
Heat Pumps
Ductless HVAC
Hot Water Heaters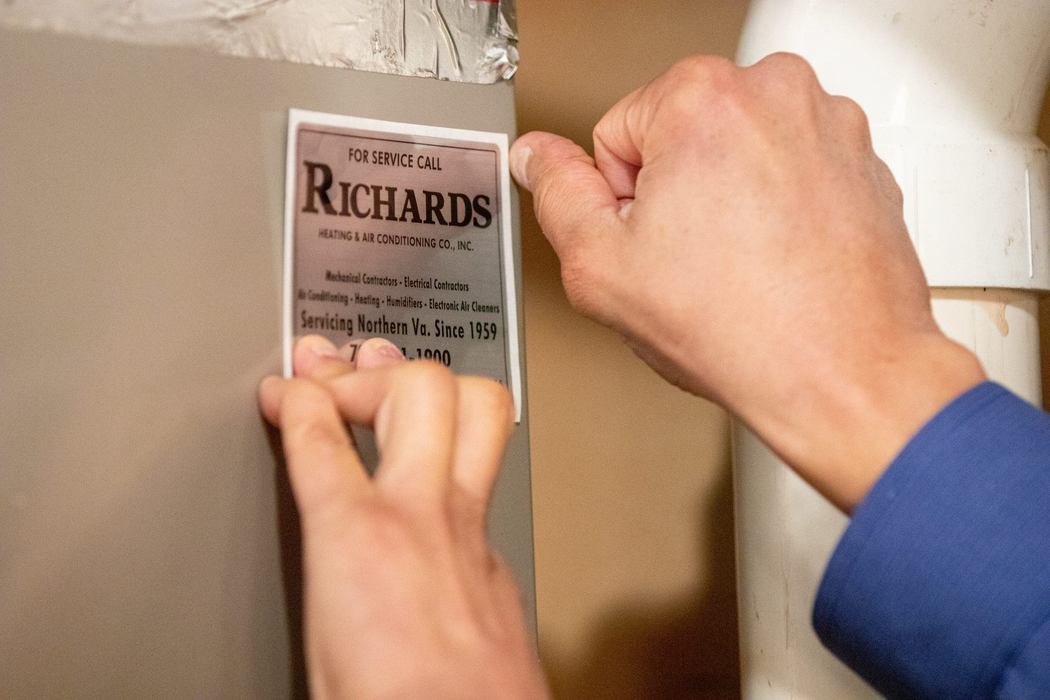 Heating System Service, Heating Service & Heating System Maintenance

North Bethesda, MD, West Falls Church, VA, Dulles, VA, Arlington, VA, Bethesda, MD & Ashburn, VA
Heating System Service in Dulles, VA | Furnace Maintenance Arlington, VA | Furnace Service Bethesda, MD
Furnace Maintenance

∴

Furnace Service

∴

Heating System Service

∴

Heating System Maintenance

∴

Heating Service ∴ Reston, VA ∴ Potomac, MD ∴ West Falls Church, VA