Malfunctions with your heating system are never convenient. While some problems are simply frustrating, others can be uncomfortable or threaten safety. Delaying service can result in more extensive damage, and require more costly intensive repairs. Contacting the NATE-certified team from Richard's Heating & Air Conditioning Co., Inc. protects your home, comfort, and investment with prompt attention, qualified workmanship, and cost-effective solutions. We provide dependable and affordable service in Falls Church and throughout Falls Church, VA; Ashburn, VA; Arlington, VA; Rockville, MD; Potomac, MD; Bethesda, MD; West Falls Church, VA; North Bethesda, MD; Dulles, VA; Reston, VA, and Herndon, VA, handling all makes and models, and resolving the most complex challenges.
Stay up-to-date with your heating repairs and furnace maintenance!
Most heating issues are caused by a simple need for maintenance. Each component of your heating system works in unison to remove stale, cold air and deliver an ample supply of fresh, clean, warmth. Through regular use and months of sitting idle, dust and debris accumulate, parts succumb to wear, and minor things start to go wrong. When these types of issues are taken care of quickly, these difficulties are normally a small and inexpensive repair and offer the added benefit of improved efficiency, capacity, and comfort. If ignored, a problem with a single component will begin to affect the system as a whole, until the entire system ultimately fails. Instead of holding out for the worst-case scenario, let Richard's Heating & Air Conditioning Co., Inc. make necessary corrections. We handle screeching noises, burning smells, lengthy run times, constant cycling, overheating, no heat problems, and absolutely anything that can possibly go wrong with your heater. Our NATE-certified technicians put their factory training, years of experience, and state-of-the-art tools to work for you, quickly diagnosing and resolving malfunctions. Through comprehensive troubleshooting, we promote long-lasting performance.
Heating Repairs by Professional HVAC Technicians
When your heating equipment is no longer working in peak condition, it's definitely costing you more to operate. Even slight problems result in inefficiency and increased energy costs. Any discomfort, whether in temperature control, noise levels, or degraded air quality, impacts the enjoyment of your home. While there's absolutely no chance these problems will fix themselves, it's a guarantee that the help you need is only a phone call away. Richard's Heating & Air Conditioning Co., Inc. gets the job done right. Have confidence that our service team resolves even the most challenging difficulties, completing repairs that withstand wear and weather, and meet your highest demands. We bring you peace of mind at affordable prices. Family-owned and operated since 1959, Richard's Heating & Air Conditioning Co., Inc. will always be here when you need us!

At Richard's Heating & Air Conditioning Co., Inc. We Offer a Variety of HVAC Services:
Heating Installation
Heating Service
Air Conditioning Service
Air Conditioning Repair
Air Conditioning Installation
Wifi Thermostats
Heat Pumps
Ductless HVAC
Hot Water Heaters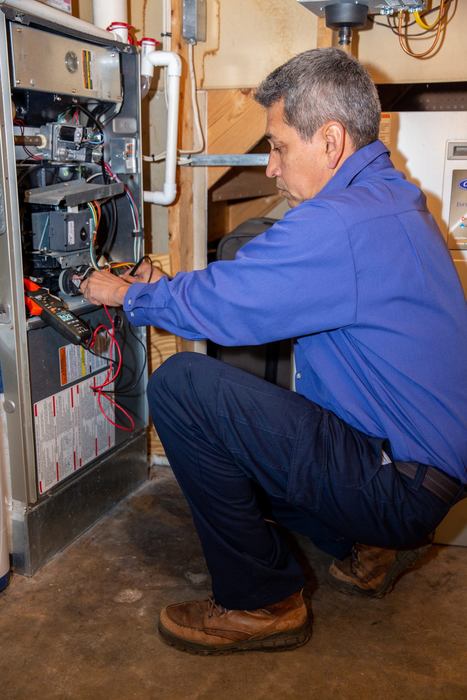 Heating Repair Services, Furnace Repair & Furnace Repair Services

Potomac, MD, Reston, VA, North Bethesda, MD, Bethesda, MD, West Falls Church, VA & Ashburn, VA
Furnace Repair Services in North Bethesda, MD | Furnace Repair Dulles, VA | Heater Repair Bethesda, MD
Heating System Repair

∴

Heating Repair Services

∴

Furnace Repair

∴

Heater Repair

∴

Furnace Repair Services ∴ Falls Church, VA ∴ Reston, VA ∴ Potomac, MD